1. Requirements
2. Download and install TPF-Basic
3. Use of TPF-Basic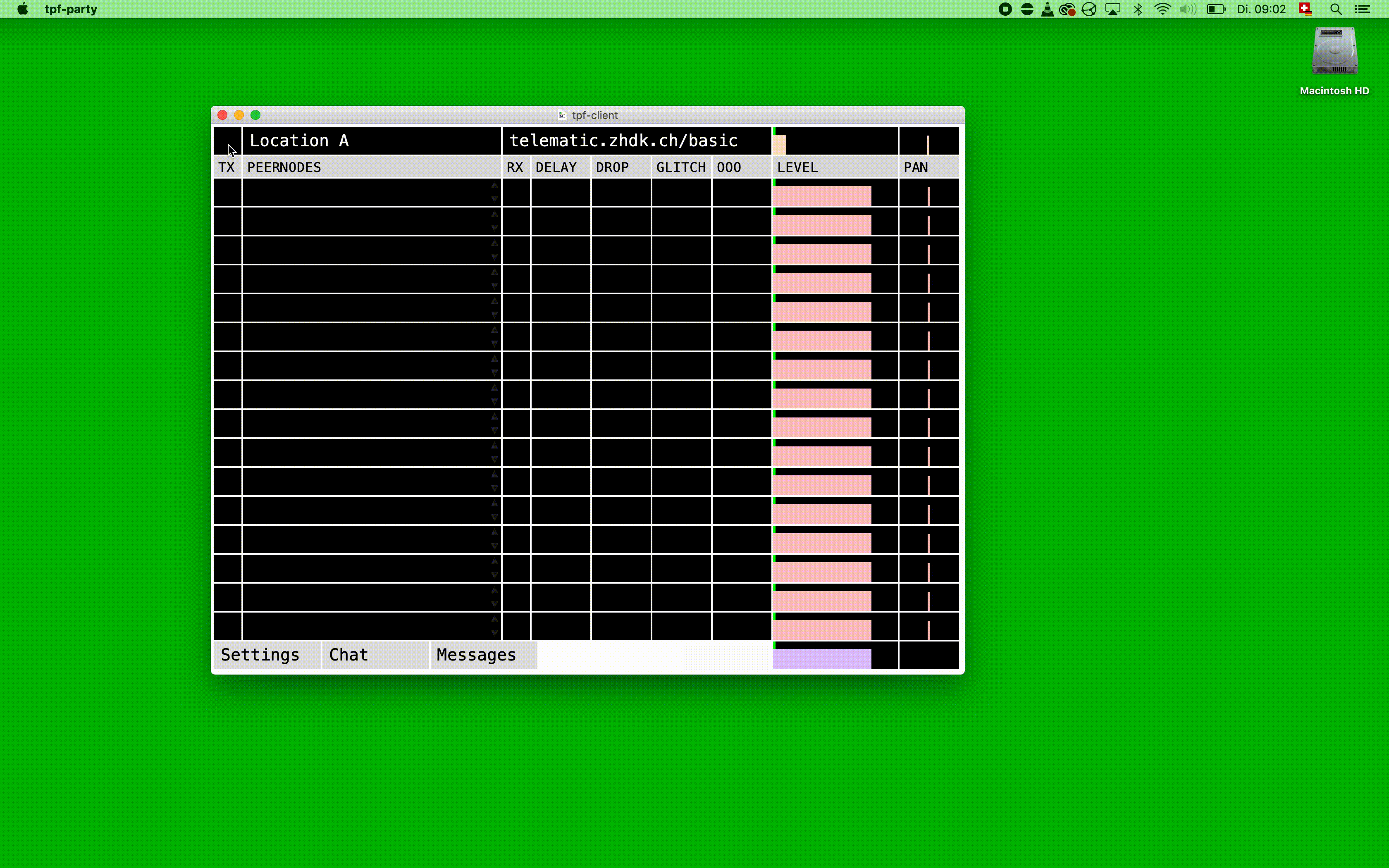 TPF-Basic is an easy-to-use audio tool ideal for jamming and long-distance teaching. It sends one channel to the remote peers and only expects one channel from each remote location. It can connect up to 16 remote peers. It features a built-in mixer with level and pan controls for each peer.
TPF-Basic is less flexible than TPF-Intermediate, but simpler to use, and does not need a Digital Audio Workstation. For many setups (people participating from home with laptops), this might come in handy. Otherwise, it is fully compatible with TPF-Intermediate.
The following sections outline key aspects of using TPF-Basic. Section 1 outlines preliminary set up requirements; Section 2 covers steps for downloading and installing and  Section 3 offers tips for using TPF-Basic.
1. Requirements
TPF-Basic is compatible with macOS 10.14+ (those with Intel chips only).
An Internet connection with at least 10 Mbit/s up- and download capacity is recommended. The quality of the connection is highly dependent on the quality of service of the Internet provider.
We strongly recommend plugging in your computer directly to the Internet router with an Ethernet cable. It is possible to use WiFi, but the connection quality might suffer and the latency will be much greater.
It is useful to use an additional interface; if you use your computer's built-in devices, you need to use headphones to avoid feedback.
2. Downloading and Installing TPF-Basic
Download the TPF-Basic installer 'install-tpf-tools-basic.pkg' from here:
Right-click and open the downloaded installer package ('installer_tpf-tools_basic.pkg').
The following window will appear:
Follow these installation instructions.
After a successful installation, the folder 'tpf-tools-basic' will appear in your 'Application' folder. It contains 'TPF-Party', an easy-to-use standalone device for bi-directional audio streaming between the involved locations.
3. Using TPF-Basic